Christmas is the season to spread good cheer, celebrate the love of God, spend time with our family and to share, care and give
Although not all of us can be with our families at Christmas, at least there are people who care and are ready to share with these less fortunate ones.
On Christmas Day yesterday Ramu Pillay, owner of business chain Pillay-R Group, once again hosted some 55 children from three orphanages – Foyer de Nazareth, Foyer de la Solitude and Foyer de la Providence – to a lunch at the Palm Residency hotel.
This is the 12th consecutive year that Pillay-R Group organises the Christmas lunch.
Also present at the event was Social Affairs, Community Development and Sports Minister Vincent Meriton, and the Minister for Tourism and Culture Alain St Ange.
Minister Meriton told the children that they must be sorely missing their parents at Christmas.
"The only people missing in your lives on this day are your parents, but Christmas is a time to be happy, to celebrate the Birth of Jesus," said the minister.
Minister St Ange added that Seychelles needs good leaders that will make our country much stronger.
"We all need to make peace and be happy because today is a time for forgiveness," said Minister St Ange.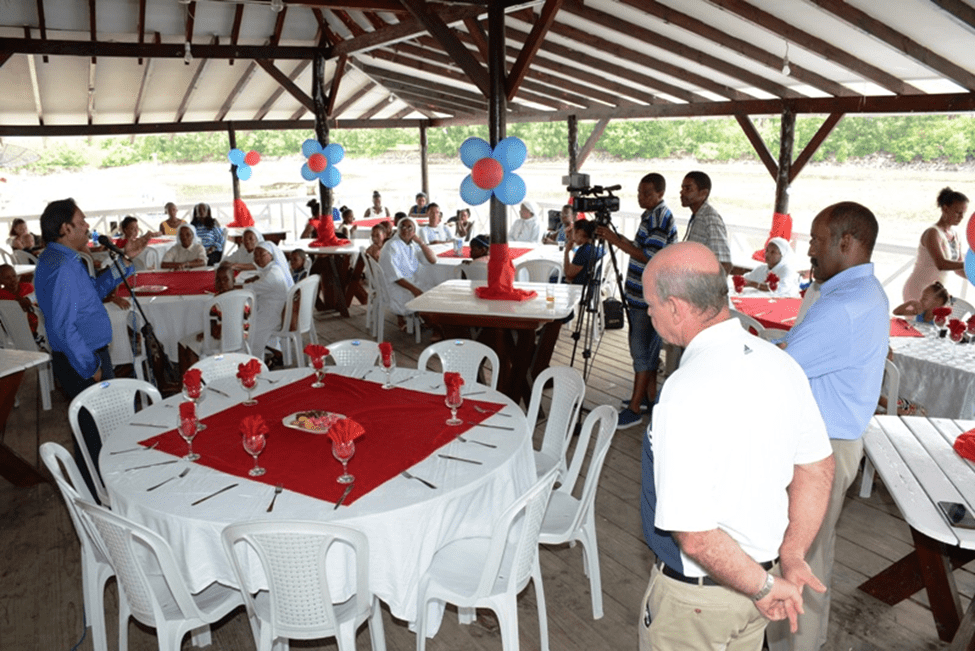 For his part, Mr Pillay thanked ministers Meriton and St Ange for gracing the event with their presence and said "it is always an honour for Pillay-R Group to organise the lunch for children who are not living with their parents".
He told the children to grow into responsible citizens despite the absence of their parents.
It is also good to point out that Mr Pillay also gave a donation to Nocia Mousbe and her two children Shaun Omblime, 14 years old and Hella Adonis ten months old, who lost everything to a fire last week. She received a fridge as a donation from Mr Pillay.
If you want to bring some Christmas cheer to Nocia Mousbe and her family, please do not hesitate to contact her on 2604207 to make a donation.
Pillay-R Group hosts less fortunate children to Christmas lunch | 26 December 2015
Facebook Comments