Referred to as the only restaurant serving a large variety of dishes from different Asian countries, the newly opened Asian Fusion at ex-Tyfoo, Au Cap, is offering a unique taste to visitors and locals wishing to savour these spicy mouthwatering dishes without travelling
Following its official opening on Friday afternoon, the Asian Fusion restaurant will open its doors tomorrow starting off serving à la carte lunch.
Alain St Ange, the Minister for Tourism and Culture, cut the ribbon to officially declare the restaurant open.
The ceremony was attended by guests who included officials from the tourism industry, the Indian business community, Marco Francis, the chairperson of the Seychelles Chamber of Commerce and Industries, and the member of the National Assembly for Au Cap Murielle Marie.
Refurbishment and transformation works on the ex-Tyfoo restaurant, once a very popular spot for parties, weddings and other social gatherings, started over two years ago after the Pillay R Group of Companies took over the restaurant.
The refurbished restaurant now has a sitting capacity of over a 100 in the main sitting area and over 30 in the smaller and more private closed door area. The bar area, apart from its array of stools also has a sitting area for around a dozen people. The place also boasts a very modern, romantic, fashionable and exquisite setting and décor.
The general manager of the  new restaurant, Tajudeen Mouhamed, said he hopes that after people would have got a taste of the large variety of Asian dishes on offer and savour  the real taste of Asia on their doorstep it will not take long before the place regain its former popularity.
"We will be offering lunch and dinner to start with but gradually the restaurant will open for private functions and other social gatherings," said Mr Mouhamed.
"Most of the products for the restaurant will be sourced fresh locally," he added.
Mr Mouhamed noted that clients will be able to choose from a variety of dishes from India, China, Singapore, Japan, Malaysia, Thailand and Indonesia, to name but some. The bar also offers a wide assortment of beverages for all tastes.
An exporter from Singapore and who has been travelling for more than 15 years between Seychelles and the Asian continent, Mr Mouhamed knows all the right ingredients and products he has to bring in to ensure clients get the real taste of Asian cuisine without having to travel there.
"I welcomed the offer to join Mr Ramu Pillay of Pillay R Group in the new venture and I am really excited and looking forward to make it a success," said Mr Mouhamed.
He pointed out that the majority of his staff, some 25 of them, is Seychellois except for a couple of chefs who will be working alongside their Seychellois counterparts of course.
Speaking before cutting the ribbon, Minister St Ange congratulated Pillay R Group for bringing a new addition to the list and variety of restaurants visitors and locals alike can choose from.
"This is a new innovation – a fusion of different kitchens which is now within the reach of everyone," said Mr St Ange.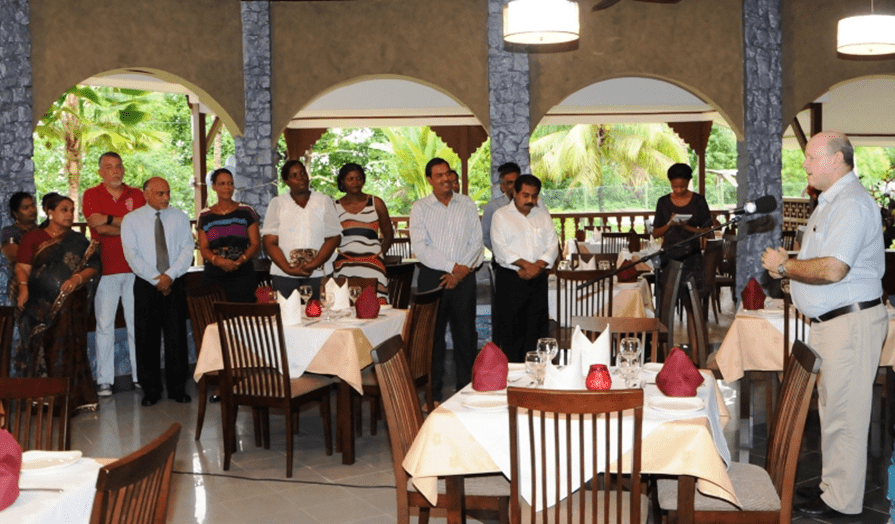 Minister St Ange welcomed the idea to include a smaller and more private closed door restaurant area. He said it is a facility which would be very welcomed when hosting different small specific groups for a business lunch or dinner.
"It is a suitable place to talk over a meal something which is not always easy in a main restaurant. I can assure you the tourism ministry and the STB will work with you and support you in this new endeavour," Minister St Ange reassured Mr Pillay.
He added that "when a businessman puts his money where his mouth is, it is very important that we support him to succeed in this new innovation and initiative".
For his part, Pillay R Group's chief executive Ramu Pillay said this new venture is another opportunity for the company to open another restaurant after the Palm Residency at the ex-Le Surmer.
"We will be offering a great mix of the different Asian cuisine, something which was missing here but which I believe will be very much appreciated," said Mr Pillay.
He took the opportunity to thank Mr St Ange for his support and encouragement and everyone who believe in the success of such a venture in this part of Mahé.
After the opening guests had a chance to tour the place, admire and savour the exclusive décor and perused the exquisitely designed menu list.
The new restaurant can be reached on 4646464 for reservation.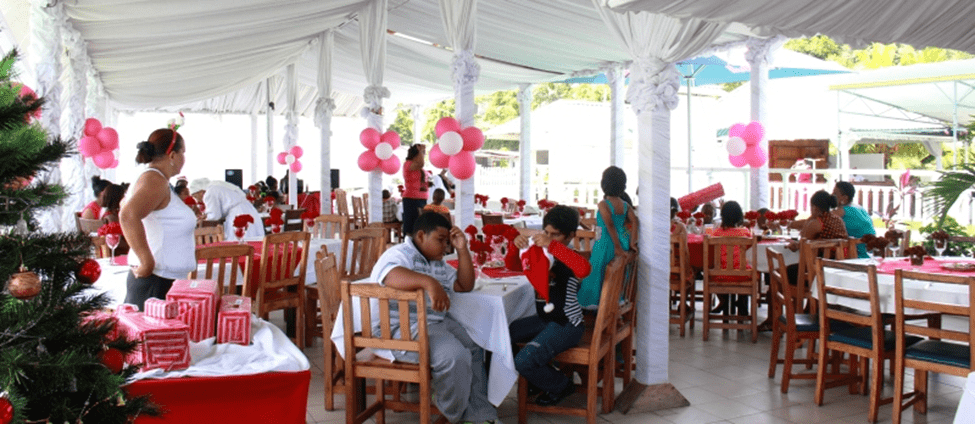 New restaurant specialising in Asian cuisine opens at ex-Tyfoo | 26 November 2013
Facebook Comments