The effort and determination shown by disabled persons to prove they too can do something  very remarkable which would make a difference in their lives, that of others as well as their communities has been further recognised.
Pillay R Group of Companies has announced a R10,000 award to this remarkable individual with special abilities and Jude Marcel who works at the Rehabilitation Centre at North East Point is the first person nominated for the award.
This announcement was made by the managing director and chief executive of Pillay R Group Ramu Pillay during a lunch his company hosted for a group of 30 disabled, their carers or guardians on New Year's Eve at the Palm Residency Hotel.
It is the second year running that Pillay R Group hosted lunch for these special guests on New Year's Eve.
Also present to grace the event were ministers Vincent Meriton (Social Affairs, Community Development and Sports) and Mitcy Larue (Health).
The special guests who arrived very early for the event also enjoyed a variety of pre-lunch snacks and drinks prepared especially for them.
Mr Pillay said the event has already been listed on his company's calendar of activities and will be organised every year.
"It is always the company's pleasure to welcome these special guests and this year we want to offer something more for one of those persons with special abilities," Mr Pillay said while announcing a special prize of R10,000 which will be awarded every year to a disabled person who shines in society and proves that his disability is no barrier in what he or she can do.
Welcoming the initiative Minister Meriton noted that this will be a way to celebrate the determination and hard work of a disabled person.
"This will be a way to express support and appreciation for the effort and hard work  disabled people put in whatever they do to prove to themselves and society that they can make a difference in their lives and that of their community," Minister Meriton noted.
Jude Marcel will receive his award at a later date.
During the lunch ministers Larue and Meriton helped Mr Pillay distribute gifts to the guests and also interact with them until late afternoon in an atmosphere of joy and laughter accompanied by New Year party music.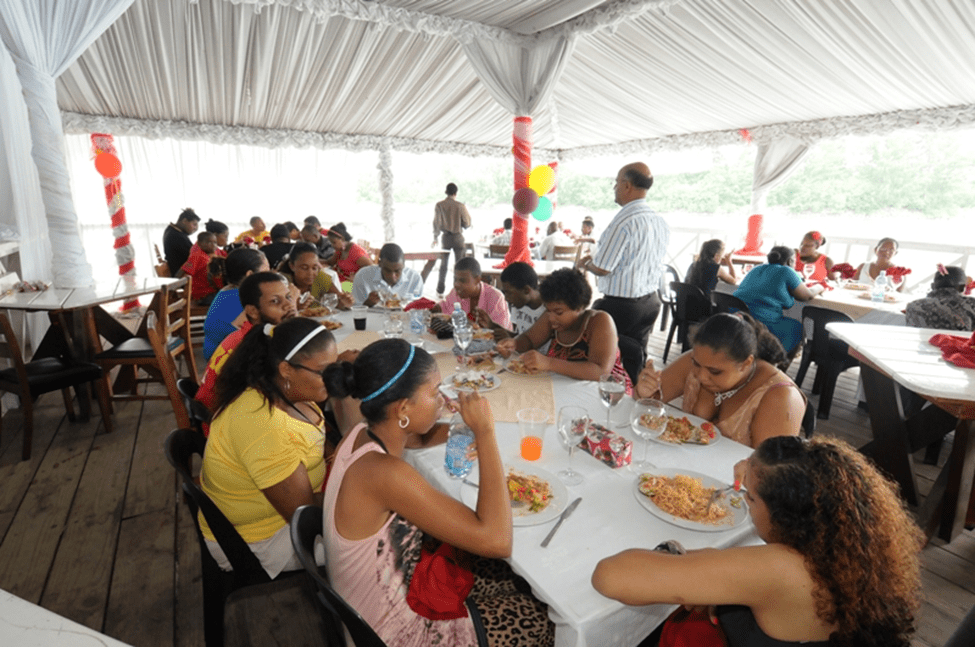 Disabled persons' special effort and determination recognised | 03 January 2015
Facebook Comments